Buddhist Mantra Mala – Tibetan Prayer Wheel, Prayer Beads Counter & Meditation Music Player for Spiritual Healing, Energy, Wisdom & Compassion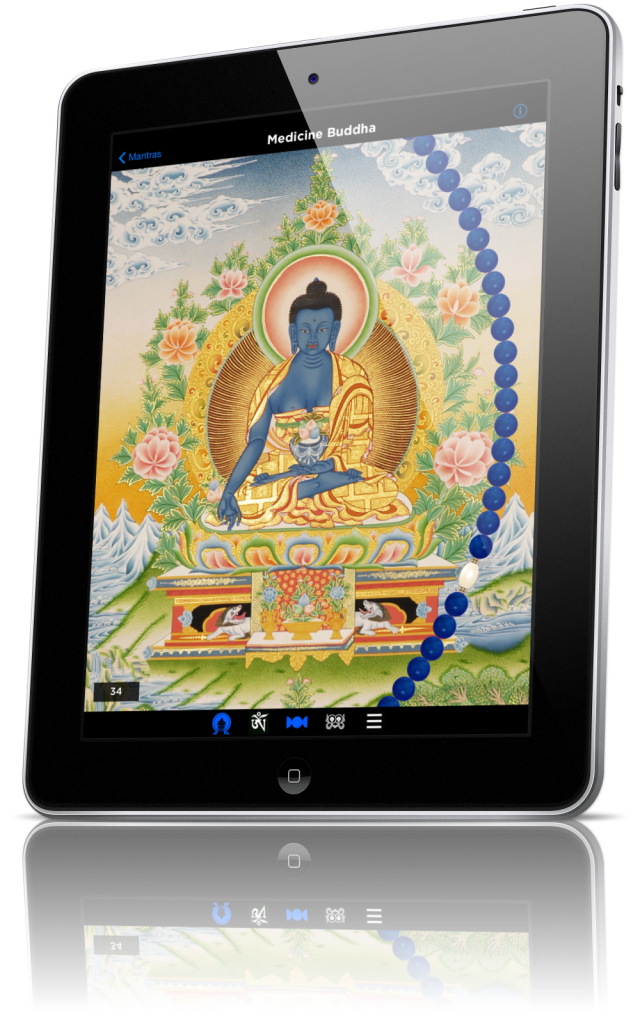 Buddhist Mantra Mala is a mobile app for spreading spiritual blessings, for aiding visualization practice, and for counting manta repetitions. Similar to a Tibetan prayer wheel, the prayers and mantras travel across the screen of your mobile device emanating spiritual vibrations. By activating the audio option, the same mantras and prayers can be heard. Deity images, linked to the appropriate prayers, can be viewed on the image screen. The mala setting can be used to count your mantra repetitions and to keep track of the ongoing totals of all your mantra accumulations. There are several types of malas from which to choose.
Our app comes pre-programmed with well-known deity images, written mantras, and audio clips. There may be different versions of some mantras, but it's easy to edit and add more choices to your menu: download from your own files, from our website's library or from the Internet. Add new mantras to the menu by clicking "+" and use the edit fields to add your own images, audio and text, or reuse any of the included sample options. To delete an unwanted mantra, simply swipe it to the left and hit "delete."
How Mantras Work
All beings possess Buddha Nature, the seed of enlightenment. Deities in Buddhism are not thought of as external saviors. They are, instead, symbolic representations of the many wondrous aspects of one's own enlightened mind: wisdom, compassion, power, purity, healing, abundance, perfection, protection and so on.
Mantras are sacred sound vibrations capable of connecting consciousness to the various expressions of enlightenment. Repeated in meditation these ancient power syllables and words (usually in Sanskrit) help the mind to slip into the gap between thoughts and connect with pure awareness. Whether mantras are heard, written, read, spoken, chanted or sung they have the capacity to create a spiritual transformation.
Although most Buddhist teachers feel it is beneficial for uninitiated individuals to recite the more common mantras, it is far better to have the transmission and empowerment for the practice. Spiritual results will be much greater for those who are "introduced" properly to the deity by an authentic master who possesses experiential wisdom.
Malas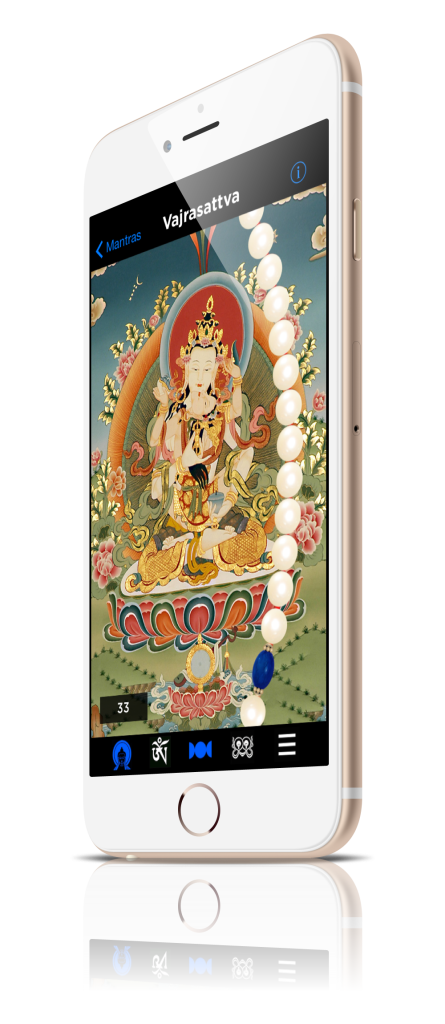 The tradition of using a mala for mantra repetition is ancient. The spiritual magnetism of a physical mala cannot be truly duplicated on an electrical device. The app's "mala option" is not meant to take the place of your blessed prayer beads in formal practice. However, it's always beneficial to quietly recite prayers and mantras – anytime you can: while waiting in line, sitting on a bus, etc. Not many people carry malas with them these days, but we always have our smartphones. This app not only keeps track of repetitions performed on your mobile device, you can also add in the mantra repetitions you do on your personal mala.
In most Buddhist traditions a mala (prayer bead rosary) has 108 beads. Doing one round of repetitions on the 108-bead mala counts as 100 recitations; the extra repetitions are done to amend any mistakes. The materials used to make a mala vary according to the purpose of the mantra:
Malas made with bodhi seeds and turquoise are considered auspicious for all practices.
For pacifying mantras to purify the mind and generate compassion one usually uses a white colored mala like crystal or pearl.
For Medicine Buddha healing mantras a lapis lazuli mala can be used.
For increasing mantras to increase one's life span, knowledge, merit and prosperity – malas of gold, silver, copper and amber are sometimes used.
For bringing positive forces to one's space magnetizing mantras are recited and malas of saffron, lotus seed, sandalwood, coral or rosewood are used.
For mantras to tame negative energies by more forceful means Rudraksha seeds are used. Human bone malas are used to tame the most stubborn negative forces.
The Prayer Generator
Repeating or hearing prayers and mantras connects one's' mindstream with the sacred qualities of Enlightened Mind. According to Buddhist belief, even being in proximity to written mantras or deity images will promote well-being.
Tibetan prayer wheels and prayer flags are based on this principle. Prayers, mantras and sutras, set in motion, generate a spiritual vibration that benefits all beings in the vicinity; the greater the number of moving mantras, the more the benefit. The Buddhist Mantra Mala app, coupled with positive intentions to benefit beings, accumulates merit and wisdom and purifies negativities. Since our little prayer generator is electronic and not mechanical, generation can easily run at any speed, including very high speeds.
The Pre-programmed Deities and Mantras that Come with the App
Amitabha (Rebirth in the Pure Land of Ultimate Bliss)
Avalokiteshvara (Compassion)
Green Tara (Protection from all harm)
Manjushri (Wisdom)
Medicine Buddha (Power to heal and to be healed)
Padmasambhava (Protection and Spiritual Accomplishment)
Prajnaparamita (Mantra of the Heart Sutra)
Shakyamuni Buddha (To purify all the defilement and actualize the four bodies of Buddha)
Vajrasattva (Purification of Karma)
Vajrapani (Pure Power)